Top Tools for Remote Work
Of all the severity caused by the Coronavirus outbreak, the workforce and businesses are the most noticeably affected.
Businesses across the world are mixed up in keeping their manpower safe while maintaining their operations. The majority of foreign businesses cannot even operate within the country and even access to services and goods that are necessary for their activities proved to be futile.
Everyone knows the reality that COVID-19 has heavily impacted the world's economy. Sea, air and land transportations were canceled, if not restricted. Physical workers, regardless of the nature of their works, were forced to take their "vacations" at a very early stage and were told to stay in their homes for an indefinite time. Catastrophic disruption in supply chains resulted in major breakdowns in production and distribution. Even the major players in the business industry are heavily impacted by the current situation.
Underneath all the issues of the pervasive Coronavirus, businesses are being forced to welcome the objective of working remotely and have a flexible perspective on the way to work.
Working from home brings benefits especially for those parents who have babies and young kids. They can attend to their children's needs and will be able to watch over them most of the time. However, business owners who would embrace the idea of working from home should create an engaging workplace and must have the right idea of managing distributed teams. The following should be considered at the very beginning:
Convey a clear and crisp guideline to your remote employees
This is the first step to have a smooth workflow. You can set expectations about working hours, goals and deadlines of tasks. Also, there are collaboration tools for remote teams that you can effectively use for your daily or weekly meetings.
Invest in the best remote working tools
To be successful in implementing a remote working policy, one must adopt the best tools for remote teams. To give you the idea of excellent remote working software available, listed below are the best technologies for working remotely.
Time Tracker
TMetric – this time-management solution will help you in tracking your workflow. Simple yet a very powerful tool, you can easily get the necessary information on attendance, working hours, overtime and other activity-related details. It will also allow you to measure your remote work productivity. Best of all, you can start your free 30-day trial anytime. TMetric is available in macOS, Linux, iOS, Windows and even in Android.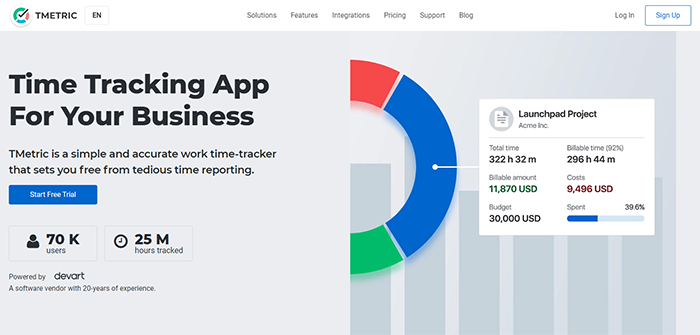 Toggl – This simple time-tracking tool is so powerful that it will give you the freedom to start tracking in your browser and later on, end up stopping the timer on your mobile phone. And that is possible with Toggl because of its sync capability between your desktop apps, phone apps, Toggl Chrome extension, and your website. You can also start a 30-day free trial and get help on handling your time allocation.
Hubstaff – Another efficient time tracking and monitoring tool, Hubstaff lets you set a random capture up to three times per 10 minutes while the timer is ticking. Having this stress-free work monitoring system will help you focus on more important matters. With its GPS time clock app, you can automatically monitor your team's movement wherever they are. It will also provide you a detailed timesheet that is emailed to you daily.
Harvest – Here's another easy-to-use time tracking system that is worth trying. Harvest allows you to invoice, send client reminders about payments, and view your income report and expenses. You might find this tool to be easily navigable and very simple to use. An essential tool for work where you can integrate into the tools that you are already using. You can try an unfussy 30-day free trial for a great experience.
Everhour – An ideal tool for your remote work, Everhour tracks time and monitors budget, easily reviews and approves time spent on certain projects. It will also help you monitor who can handle more jobs. You can accurately track the hours for each project you are working on. This time tracking software also works great with Asana, Trello, Basecamp, Jira and Github and more.
Task Management
Asana – If you want a very comprehensive system that will allow you to do projects easily and fast, then Asana is the perfect task management tool for you. It can certainly help you in managing your marketing campaigns and collaborate with everyone about the team's plans and responsibilities involved. With its powerful features that you would surely love, you can easily figure your way around.
Monday – Monday is not the usual stereotype of remote workforce management software. This tool is fully packed with features that are very useful in your remote team communication. Aside from its ease of use and flexibility, you can also integrate with your existing tools such as Dropbox, Google Drive, Pipedrive and more. You and the rest of the team will have the visibility you need to get everyone on the same page.
Trello – Trello offers a variety of functions that are of vital importance to maintain a smooth virtual relationship with all the team members. Designed to organize the work of the whole team, Trello will show you the status of all tasks. All your team's discussions about a particular project are easily discussed in a single location where you can keep everything on track, and adjust them the way it would suit your taste.
Jira Atlassian – Don't be confused. Jira is a remote management tool developed by Atlassian, an Australian-based company designed for bug and issue tracking, as well as allows agile project management. However, it is not limited to track bugs and issues on your mobile apps and software. It also gives a full-featured solution as an Application Lifecycle Management tool where you can manage all your software development projects from a single tool alone.
Basecamp – This remote collaboration tool is a perfect one-stop-shop. Basecamp involves everyone in the project. All the tools that are needed to get work done are already inside the project. From message board, to-do lists, scheduling, documents, and files, to real-time group chats. You can even integrate with your third-party tools for more efficient project management. It provides you one place for everything that is going on with your tasks.
Communication Tools
HotTelecom – Are you having extremely limited funding for a virtual phone number? Worry no more! Here at HotTelecom, you can use the phone service you need for over 100 countries across the world. It also offers VoIP phone service, toll-free (800) numbers and SMS numbers as well. These and more are what HotTelecom VoIP Service offers to you. Starting at just $5 per month, you would surely love this virtual phone system.
Slack – This remote meeting tool is designed to replace your conventional way of communication and sharing. Slack serves as a chat room for your whole organization, bringing your team together in one place no matter where you are working from. With its dedicated spaces called channels, you can efficiently organize communications and even allow you for private messaging. With Slack, you can work closely with your virtual partners as if working with them in a physical office.
Zoom – An easy-to-use web-based video conferencing tool that would allow you and your team to meet online, with or without video. Zoom makes telecommuting more realistic by helping you feel connected with your team. An essential remote collaboration tool, especially this COVID-19 issue, Zoom keeps you in touch with the rest of the group while continuing your daily workflows. You can sign-up for a free 30-day trial period to have a better grasp of this indispensable tool.
GoToMeeting – GoToMeeting is another essential collaboration tool for your business. It allows you to smoothly collaborate with your client and your team on the Internet and in a real-time setting. You may either join, manage a video, audio or web meeting from a conference room using your Mac, PC or even your mobile phone. Also, you don't need to jot down notes while a meeting is on the go with its cloud recording feature that is now available.
Flowdock – Bring all of your conversations, work issues and concerns and remote tools in one virtual place. Open spaces called Flows allow your team to collaborate. You can invite your clients to participate in discussions, and would even allow you to discuss something of the confidential matter privately through 1:1 Flows. With Flows, your conversations are systematized by threads, thus keeping your topics highly organized.
File-Sharing Tools
Dropbox – Dropbox is a personal cloud storage service that offers file sharing and collaboration within your team. Here, users can store and save their files to the folder, add other new folders and can even drag and drop files without any problems. Personalized suggestions will allow you to search your files and folders in very less time, letting you save space and share files easily.
Box – Simplify the way you work with the rest of the team. With Box, your sensitive files are secured. Thanks to their advanced security controls and intelligent threat detection. Aside from those securities mentioned, you can get everyone to work together easily on a single page and collaborate smoothly. Box provides tons of tools so you can access your data effortlessly for a significant integration.
Google Drive – Google Drive allows you to store any sort of files – from photos, stories, recordings, videos, content and many more. It comes with a first 15 GB storage for free with a Google account. Once stored in Google Drive, you can view your stuff anywhere you are via smartphone, tablet or your personal computer. With its systematic way of sharing files and folders to others, inviting them to collaborate with the files you want proved to be seamless.
Microsoft OneDrive – This file hosting and synchronization service by Microsoft comes with 1 TB of cloud storage. You can also work on your stuff anywhere with your mobile phone, tablet or personal computer since stored files are updated on all of them. And in case you lose your device, your files and photos will remain secure when they are saved in OneDrive. Best of all, you can access selected files even if you go offline.
MediaFire – Simplify your workflows with MediaFire's powerful features. You can share your files through email, link or other social media networks. Emailing large files is possible and easy for a smooth collaboration with your colleagues. And with other vital tools mentioned above, you can never forget your work at home. You can store your photos, audios, and videos up to 10 GB for free. An awesome tool worth trying.
Software Tools
GitHub – GitHub is a code sharing and publishing service, but the most powerful features come in three ways – fork, pull request and merge – and made GitHub a very reliable software tool. The fork is simply copying a repository from one source's account to another. Sending notification for changes that you want to share to the original owner is called a "pull request". While "merge" occurs when the original user clicks the button and merges the changes found in your repository with the original repo.
Bitbucket – Bitbucket is another repository management solution that allows you to collaborate on your source code. It comes with free unlimited private repositories, allowing you to collaborate with your team on code in one place. You can build, test and deploy with Bitbucket easily. This single tool alone is enough for your professional needs from code to deployment using either Mercurial or Git revision control systems.
GitLab – GitLab greatly helps you collect performance metrics for both servers and applications. With its integrated monitoring system, it allows you to determine the effect of merging a branch and lets you monitor your production system. With Gitlab, your risk of a complex DevOps toolchain can be simplified, minimizing your integration and optimizing software delivery and quality. Increase your efficiency by learning Gitlab's toolchain management systems.
Jenkins – This open-source automation server enables developers across the globe to build, deploy and automate any project by providing numerous plugins. Since it is a self-contained Java-based program, you can easily install and configure it through its web interface. Designed to build and test your software projects, Jenkins makes it easier for you to combine changes to your project, thus allowing you to set up a continuous delivery environment.
Gitea – A lightweight code hosting solution written in Go, Gitea runs anywhere from Windows, macOS, to Linux and ARM, etc. Being a painless self-hosted Git service, it offers excellent features such as a user dashboard, context switcher, activity timeline, pull requests and others. And since Gitea is super lightweight, it can be very responsive to low powered devices as well, and it would even look like a local app on your phone.
Tools/Apps to Help You Focus and Block Distractions
Freedom – To stay focused on your assigned task, you need Freedom. This computer program is specifically designed to keep you away from Internet distractions of up to eight hours. Even if you are using Android phones, it can effectively block websites and app notifications. You can block all websites except for those you need to access, allowing you to be more productive and more efficient.
Cold Turkey – What is Cold Turkey Blocker? This app designed for macOS and Windows will help you concentrate on your work by blocking apps and websites that you choose to. An interesting feature of this app, called Frozen Turkey, will lock you out of your PC for a certain period, thus shifting your 100% focus to your task. But remember that in Cold Turkey, once you start a block, there is no turning back.
Mindful Browsing – This productivity Chrome add-on doesn't block you from visiting sites, rather it aids you to experience a better life by interrupting your mindless browsing with its stunning photographs. After all, you are still in control since you can specify which sites you wish to be mindful of. A great way to focus on your task while having full control of what sites you want to visit.
[email protected] – If you want to try something unusual to help you stay in focus, then [email protected] is worth trying. By personalizing focus music to assist you in maintaining productivity and reduce distractions around you, this neuroscience-based service is designed to improve your logical thinking and creativity. [email protected]'s selected instrumental music is exclusively for focus and was created by a dynamic team of scientists, musicologists, and producers.
Brain.fm – Another science-first approach streaming music service is Brain.fm. It is exclusively designed for the brain to intensify concentration and meditation. It is a mindfulness app that you can download on your Android phone or iPhone. Brain.fm is certainly a game-changer and worth trying. You can choose whether to turn it on for a certain time of the day, or just keep it on all day.
Working remotely is fun and at the same time, challenging. And one of the most common challenges remote workers are facing is maintaining focus and engagement. But with the vast selection of remote working tools, coupled with the right planning and delegating of work to your team, these can eliminate most of the challenges that come from working at home. After all, the best technologies for working remotely are already summarized above to help you in organizing your remote team.